Let us work together! I work with individuals, schools and organizations. I am open to booking online or/and in person consultations depending on how we are going to work together. I work on a sliding-scale payment method, which means that you get to pay any amount in the sliding-scale I offer you.
I do this to ensure that most people are able to access my services.
If I am not able to offer you support or the I do not know much of the topic you came to me for, i will do my best to refer you out. A consultation can look very differently depending on what it is that you are looking for, let us think outside the box!
HERBAL SUPPORT

Let us match you up with some plant friends!

RADICAL POLITICS+ HUSTLE

Interested on talking about the intersection os radical politics? or maybe want to focus on starting up a small feminist business?

TRADITIONAL SEXUAL HEALTH

Let's talk about preconception support, humitos, post partum support y mas!
Most of the people I work with follow me in my social media and contact me regarding the subjects I post about. While my consultations are pretty flexible and broad, they will always:
-give you the tools to be your own healer
-honor you as a whole being
-provide an intersectional feminist and radical approach
-be body-positve and sex-positive
-honor and center Queer & Trans People of Color
-work from where you are at

The online and in person consultations that I offer are extremely broad, it really depends on what you want and need. Here are some examples of how this can look like:
-providing herbal and food support for folx going through surgery or imbalances
-how to start your journey as a doula
-traditional Latin American support for uterine health, birth and post partum
-cerradas/walthaskas and closing ceremonies for after birth, abortion or miscarriage
-creating a healthier relationship with money
-the menstrual cycle
-radical politics
-conversational spanish
-my teaching frameworks
-how to start or continue your herbal education
-down there steaming and and herbal mixes
-brujas feministas
-abortion support
​-and much more!

Looking for a new outlook?, maybe you want to delve into plant medicine and don't know where to start?, or maybe you want to get some tips on creating small feminist business? Let us work together!
COMADREO
Powered by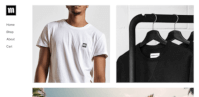 Create your own unique website with customizable templates.